20 Tips for Healthy Hair
If your hair is making you look older and is dry and thinning, these healthy hair tips can make a huge difference!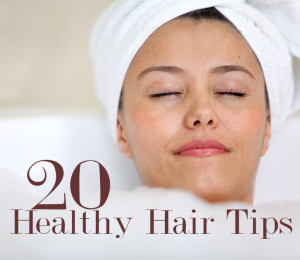 It's so easy to get caught up in the 'next big thing' or the 'latest miracle cure', but how many of us are doing little things all the time to ensure we have healthy, happy hair?
Protecting your hair from heat
Heat and hair are not friends. Heat can dry your hair and scalp making it brittle and susceptible to breakage. Now that it's getting colder, it's tempting to have boiling hot showers and keep the hair dryer on a little more than strictly necessary, but try to resist. If you must engage in these winter habits, take extra care to nourish and moisturise your hair and scalp.
Hair & Heat Tips
Make sure your showers are not too hot.
Use a heat protective spray when using blow dryers, straightens, curling wands etc.
Ensure you keep the hair dryer at least 20cm away from your head.
Wear a hat in the sun, especially if you have fine or curly hair as these hair types are more susceptible to sun damage.
Use a diffuser on your hair dryer so that you don't aim too much concentrated heat on one area.
Protecting your hair from chemicals
Our hair and scalp can easily be damaged by harsh chemicals, so it's best to keep them to a minimum wherever possible.
Chemical Protection Tips
Use chemical free hair products (read more). Especially steer clear of shampoos and conditioners containing sodium laurel sulfate. Try  the Carelli range if you want to go totally chemical free.
Wet your hair with fresh water before swimming in the pool or surf, this minimises the amount of drying salt or chlorine you hair can soak up. Rinse the ocean or pool water out afterwards too.
Use a clarifying shampoo around once a week to eliminate product build up. A good natural alternative is apple cider vinegar.
Condition, condition, condition!
You must be getting the idea by now that dry hair is definitely something to steer clear of, so making sure you condition adequately is very important. Remember dry hair is aging. Shiny hair is more youthful.
Hair Conditioning Tips for Shinier Hair

Use a treatment around once a week.
Apply a nourishing oil such as Carelli Recovery Oil or another good quality oil to damp ends after washing.
Get a treatment at the hairdresser whenever you get something drying done e.g. dyes, perms etc.
Choose shampoos and conditioners which specify 'dry hair', 'deep conditioning' or 'coloured hair'
Towel dry your hair between shampoo and conditioner to aid in the absorption of your conditioner (you don't put face cream on a wet face for the same reason)
Add a squirt of a good quality nourishing oil to your conditioner. (e.g. Carelli Recovery Oil or Argan oil)
Look after your scalp
It makes sense that since your hair grows out of your scalp, having a healthy scalp is important for healthy hair, just like good soil for healthy plants. It can be difficult to notice your scalp health unless you're experiencing discomfort, so ask your hairdresser about the condition of your scalp (they don't mind!).
Scalp Saving Tips
Know the difference between dry scalp and dandruff and treat accordingly.
Give yourself scalp massages to encourage blood flow and exfoliation (especially after adding in your conditioner)
Use a scalp exfoliator to remove dead skin cells and promote circulation.
Don't wear your hair in tight hairstyles too often.
Keep any visible scalp (including your part line) safe from the sun by applying sunscreen on a cotton bud, wearing a hat, or using hair fibres.
And finally, don't rub your hair dry. Use a good quality microfibre hair towel and wrap your hair for 5-10 minutes after washing and conditioning your hair. This is a good practice to get into as it gently removes moisture from your hair while allowing time for your moisturising conditioner to soak in.
If all these tips are a bit overwhelming, try to introduce a new tip each week until they become habits, your hair will thank you! If you have any other healthy hair tips, please share them in the comments.
more reading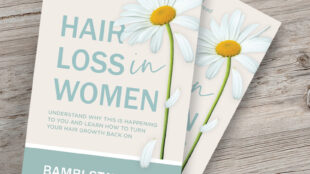 Female hair loss can be a complex issue and requires complex solutions. In my latest book, HAIR LOSS IN
[...]