Will Minoxidil Work for me?
What Is Minoxidil?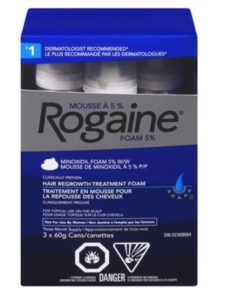 Minoxidil is the active ingredient in Rogaine which is an over the counter treatment for androgenic alopecia. Rogaine is applied topically to the scalp to cure hair loss in both males and females.
Minoxidil (trade name Rogaine) does work, but it doesn't work for everyone. Only about 40% of men and up to 60% of women in a recent study found that Minoxidil grew their hair back. However new hair growth is not permanent. It is a lifetime obligation. If you stop using Minoxidil, then the hair that grew back will fall out. According to the same study, the use of Mionoxidil during pregnancy is not advised.
The drug was originally formulated as a tablet in 1950 by Upjohn Company, for patients with high blood pressure. One of the side effects of the formula was patients growing unwanted hair. They found by applying the drug topically, patients saw less hair loss and in some cases, hair growth.
Minoxidil works by widening the blood vessels, opening potassium channels allowing more oxygen, blood and nutrients to the hair follicle. The formula slows down or can stop hair loss in females and in some cases promote new hair growth.
Although the exact way the product works is unknown, researchers believe it extends the time hair spends in its active growth stage. This means the hair renews its growth cycle and revitalises shrunken hair follicles.
Will Minoxidil Cure My Hair Loss?
According to Studies from Belgravia Centre, patients using the drug see varied results. However, for the drug to be effective you must use it everyday! If you do stop dependently using the treatment you will start to lose hair again and in fact, any new hair growth will also fall out.
Depending on the severity and the reason you're experiencing your hair loss, products containing Minoxidil have been known to cure hair loss. We suggest seeking medical professional advice first to determine whether it is the right treatment for you.
For women experiencing more than usual amounts of hair loss, you're not alone! Try BOOST N BLEND hair thickening fibres designed to cling to the hair shaft, thickening the appearance of your hair while concealing any visible hair loss spots. The good news is that if your hair is going to come back (as it will if the hair loss cause was temporary or has been addressed), your hair will regrow healthily while using BOOST N BLEND.
Further reading: Top 8 Causes of Hair Loss in Women.
FAQ
Where Can I Buy Minoxidil and Rogaine?
Customers can buy Minoxidil over the counter at a chemist without a prescription. Minoxidil can be found more commonly in Rogain for men and women.
What are the Minoxidil and Rogaine Side Effects?
Negative side effects include burning, itching and unwanted hairs growing on other parts of the body are all associated with Minoxidil. Although the hair loss drug works for most women, results don't happen over night! Researchers suggest results can take up to months to appear.
How Much Does Rogaine Cost?
Rogain comes in 60g cans of mousse and costs roughly USD$39. Other products which contain Minoxidil (shampoos, serums and hair oils) are between USD$30-$150 depending on the product type and size.
What is The Difference Between the Mens and Womens Rogaine products?
The female solution contains 2% while the male solution contains 5%. Males need to apply the foam twice daily, while Rogain for women only needs to be applied once daily. The FDA approved 2% dosage for women because of the side effects such as dizziness and low blood pressure associated with the higher dosage.
References:
https://www.sciencedirect.com/topics/neuroscience/minoxidil
more reading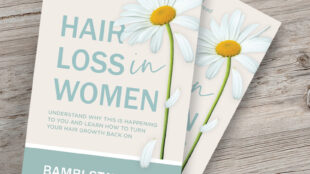 Female hair loss can be a complex issue and requires complex solutions. In my latest book, HAIR LOSS IN
[...]