7 Best Root Touch Up Products
Many of us who colour our hair at one point or another have been guilty of trying to extend our time between hairdresser visits. But in an unprecedented time of social distancing and lockdown, many may be on the hunt instead for the best root touch up products on the market.
Below we've compiled a list of the best root concealers around, with something for every need and every budget.
Josh Wood Blending Brush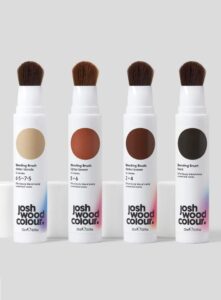 A celebrity fave, Josh Wood is the king of colour in the UK, known for his celebrity and fashion clientele. These brush on root concealers are perfect to combat pesky greys but will last up to 3 washes.  It's a wet application, best to cover large areas of one colour. Apply when your hair is wet or damp, and then dry and style as normal.
BUY NOW £15 Josh Wood Colour
Rootz Grey Root Cover Up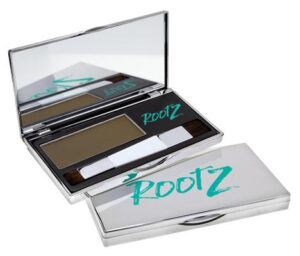 This slimline compact is perfect for root touch ups. The mineral rich pigments are applied like eyeshadow to the hair, with the included brush. With no waxes, dyes or parabens, the Rootz Cover Up has a great non sticky feel and best of all, it's completely waterproof and stays put until you shampoo it out. We loved the double ended brush, that allows for quick coverage on large areas, but the smaller end which is great for detail, or even eyebrows. It's not messy like some of the sprays, and you can apply to wet or dry hair! With three times more product in this compact than similar products, Rootz was a win.
BUY NOW £18.99 Boost N Blend
Loreal Magic Retouch Spray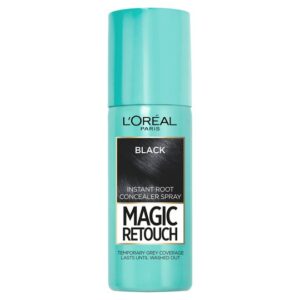 A popular high street or drugstore buy, the Loreal Magic Retouch is a great budget buy.  The pinpoint aerosol spray is meant for precision coverage, but can be a little messy in application. Its great for all over coverage though, and can be applied to dry hair. Be careful, as it can deposit a lot of colour onto your scalp! But once you get the hang of it, its not a bad buy for the price.
BUY NOW £8.99 Boots
Bumble & Bumble Color Stick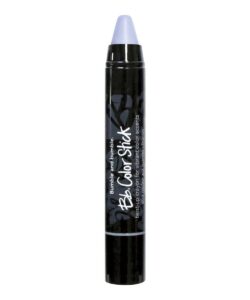 Bumble & Bumble have always been known for great cruelty free products that are adventurous with style. These color sticks are no exception, with a range of "natural" and more adventurous shades. Like the lavender colour above.  They can be drawn onto your hair; covering the grey roots, or just adding some extra colour.  It is wax based however, so you'll have to wash it out well before trying to dye your hair again. Be ready to feel like your playing with crayons again.
BUY NOW £23.00 Bumble & Bumble
Oribe Airbrush Root Touch Up Spray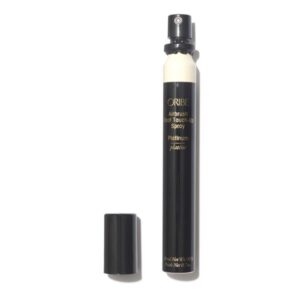 Our high end root touch up gives you a bit of colour and freshens hair at the same time making it perfect for the handbag.  The Oribe Airbrush Root Touch Up Spray not only is packed full of micro colour particles, but also rice starch which helps to absorb any dirt or grime from throughout the day. It's not for the budget buyer, but we did appreciate the range of shades in this product including the hard to find red.
BUY NOW £29.00 SpaceNK
Garnier Express Retouch Root Concealer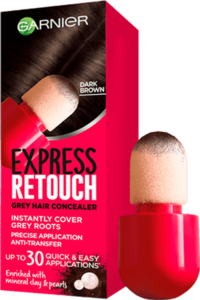 Another high street or drug store root touch up product from a well known brand. This product may be for you if you have large areas to conceal, as the sponge applicator is quick to apply.  It's harder to be precise, but as the product is quite wet you can blend it in with your fingers.  It does make it a bit messy, but go for it if speed and budget are what you're looking for.
BUY NOW £9.99 Boots
R+Co Bright Shadows Root Touch Up Spray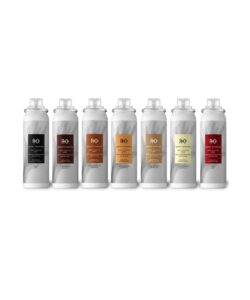 R+Co Bright Shadows Root Touch Up Spray is another aerosol product that claims to not only cover your grey roots and freshen your hair, but also stimulate growth with biotin. Whilst the jury is still out over those claims, it does have a great range of colour choices, once again with a hard to find red included!
BUY NOW £25.00 Cult Beauty
The verdict: Root touch-ups
We had high hopes for the king of colour Josh Wood, and he doesn't disappoint. The Blending Brush deposits great colour every time, is simple to apply and is reasonably priced too. However, you're sporting highlights or want something that can multitask, Rootz gives mess free brilliant coverage on wet or dry hair and can be used on brows as well. Because it's waterproof as well, it won't budge if you're caught in the rain.
more reading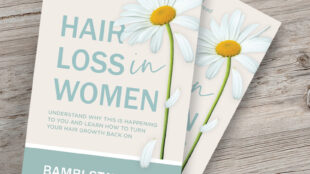 Female hair loss can be a complex issue and requires complex solutions. In my latest book, HAIR LOSS IN
[...]