Female Hair Fibres
Our quest is to find the best cotton hair fibres for women. We have reviewed 6 cotton hair fibre brands to find out which are truly the best cotton hair fibres on the market today.
Hair loss concealers or hair fibres first arrived on the male hair loss scene, around 35 years ago. Hair fibres were a male invention to cover the first signs of hair loss in men. These initial products were derived from animal products so that they would contain the animal protein "keratin" which closely resembles the proteins in human hair.
Fast forward thirty years, and no woman wants to apply a product derived from animals, nor one that was designed for men.
Enter cotton hair fibres.
With so many of our readers preferring vegan products, we have reviewed just the cotton hair fibres. Animal and cruelty free, now a common expectation for women's hair products.
Why Cotton Hair Fibres?
Cotton hair fibres are 100% vegan, made from plants and safe to use on sensitive scalps, damaged or coloured hair and for both men and women. Cotton hair fibres are 100% colour fast which means the fibres hold the colour when they come in contact with water, sweat or light rain.
We have reviewed what we believe are the best cotton hair fibres on the market and kept 3 factors in mind. The price per gram, colours available, resistance to heat, humidity and water and reviews.
Boost N Blend Female Hair Fibres
A cotton concealer, designed by women for women.
Boost N Blend can be purchased in the UK, US, Australia, Canada and Hong Kong. Available on Amazon.
$2.20 per gram ($55 for a 25g bottle in Australia)
9 colours available, all designed by an Australian hair colourist
100% colour fast. Doesn't rub off on the pillow, will cling to the hair shaft until next hair wash.
Reviews on Facebook – ☆ ☆ ☆ ☆ ☆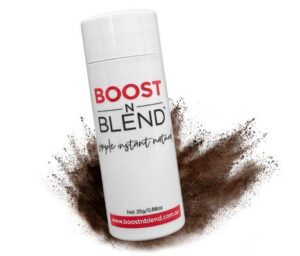 Caboki Unisex hair fibres
A naturally derived fibre made from Moroccan Gossypium Herbaceum (a fancy word for cotton!)  sold on Amazon and eBay.  Ships from Caboki store in the US.
$2.39 a gram ($59.95 for a 25g bottle on eBay)
14 colours available
100% colour fast. Some customers have complained the fibres do come off on their hands and can look clumpy.
4.4 out of 5 reviews on Amazon ☆ ☆ ☆ ☆

Create Miracle Fibres
Made from plant-derived cotton fibres with no chemicals, synthetic material or dyes.
Miracle Fibres can be purchased on Amazon AUS – ships in 6 weeks from US
$1.80 per gram ($45 for a 25g bottle on Miracle Hair.com
9 colours available on the Miracle Hair website and 3 colours available on Amazon
Wind and sweat resistant.
4 out of 5 reviews on Amazon ☆ ☆ ☆ ☆ (Reviews dated from 2016 – 2017)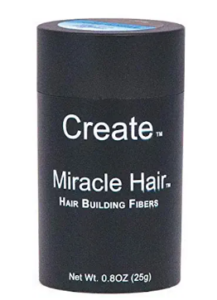 Volumon
Volomon have designed two concealers, a keratin and cotton hair fibres. The non toxic cotton fibres contain no parabens and designed for male and female hair.
8 colours available, shipped directly from the UK
$1.92 per gram (£29.99 for a 28g bottle at Volumn)
4.3 out of 5 reviews on Amazon UK ☆ ☆ ☆ ☆

GoFbyr
Cotton binds hair concealer designed and marketed to men.
Go Fbyr can be purchased through Amazon UK or the GoFbyr Official website
$2.35 per gram (£36 for a 28g bottle)
10 colours available.
Gofybr is 100% colourfast, it does not stain clothes, bed linen or your scalp
3.7 out of 5 reviews on GoFbyr Facebook ☆ ☆ ☆
Boldify
Made using 100% vegan ingrediants – Moroccan Gossypium Herbaceum, natural iron oxide and salt.
Boldify is made in the US and stock on the Boldify website and Amazon AUS and Amazon UK.
$2.51 per gram ($62.99 AUD for a 25g bottle)
13 colours available
Boldify is rain, wind and sweat resistant.  Will last right up until your next shampoo.
4.7 out of 5 reviews on the Boldify US website ☆ ☆ ☆ ☆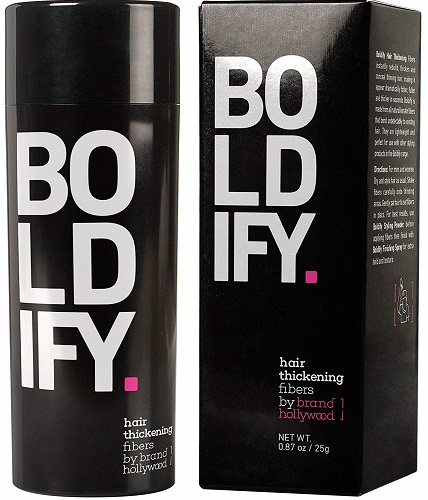 Conclusion
During our research we noticed Amazon and eBay sell several knock-offs of Caboki and GoFbyr. The 22g black bottle of cotton hair fibres, similar to the Create Miracles bottle has been replicated and sold as the cheaper alternative.
Caboki offer a great colour range and the 25g bottle is great value for money however after reading customer reviews, it seems a common complaint is that the fibres don't cling to the hair and can appear clumpy. We also had high hopes for GoFbyr  but the customer feedback was that the fibre stuck to the scalp, not the hair making it look quite unnatural.
We tried Boost N Blend and found the cotton hair fibres stay on while we workout at the gym, slept and only needed to be reapplied after washing.
more reading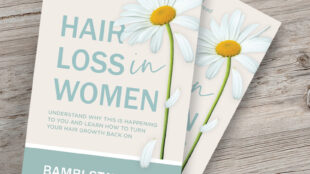 Female hair loss can be a complex issue and requires complex solutions. In my latest book, HAIR LOSS IN
[...]