3 Tips to Cover Grey Hairs at the Roots
How to Cover Grey Hairs
When the pesky grey hairs start to appear, many women look for a quick solution to cover them.  Grey hair occurs when coloured hairs are interspersed with white hairs. Hair turns white when the pigmented cells responsible for colouring the hair stop being produced.
This process happens for most women around menopause, if not earlier in their 30s or 40s. Unfortunately we cannot reverse this process as it is genetic, however we can cover the grey hairs when they appear.
If you are finding it's getting harder to cover the greys between salon appointments, you can try these tips at home:
Go Lighter! 
The lighter your hair is, the less contrast there is between the greys and darker shades of hair. Colouring your hair lighting and blending the white hairs into your natural hair line will also prolong the visits to the hairdresser. You can read more about the benefits of Platinum Hair here
Use a Grey Hair Concealer
If you're looking for a quick fix to cover grey hairs, use a good quality grey concealer on your roots. Rootz by Balance Days is a professionally designed powder with reflective pigments to easily and instantly cover grey regrowth. The grey concealer comes with a double ended applique brush and compact mirror for easily application.
Shop all 4 colours now for only $34.50
Highlight your Hair 
To camouflage sparse grey hairs, ask your hairdresser to frame your face with highlights. Lightening your roots will make greys less noticeable and give your hair a fresh-looking makeover. Your hair colourist might add lowlights and highlights to blend the grey hairs.
FAQs
Will diet and exercise reduce grey hairs? Probably not. Living a healthy lifestyle, drinking plenty of water and reducing stress will always help with your hair health, however grey hairs are an inherited trait. The age at which your parents went grey will often determine when you will start seeing grey hairs.
Is there a long term solution to cover grey hairs?
Colouring your hair will reduce the appearance of grey hairs however as your hair grows, so too will the greys! You can always try styling your hair with a head scarf or touching the roots with a grey hair concealer powder.
Will massaging the scalp help with my hair health?
Massaging your scalp will promote blood supply to the hair follicles and that means healthier hair growing out of your scalp. When your hair has a healthy environment to grow, there is less dry flaky skin on your scalp and the hair is strengthened at the roots. Read here for more tips on healthy hair.
more reading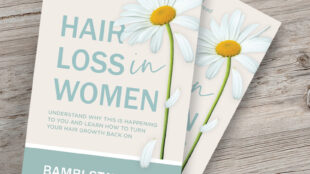 Female hair loss can be a complex issue and requires complex solutions. In my latest book, HAIR LOSS IN
[...]