Do Hair Gummies Really Work for Female Hair Loss
Do Vitamin Hair Gummies Work?
On average, hair grows around 15cm a year and we are yet to find a product which speeds this up. While there isn't a miracle cure, many women are wondering if hair gummies products work for female hair loss.
The rapid growth of hair gummies on social media is targeting girls as young as 12 to use the product. Despite having no hard evidence that they actually work.
Depending on the reason for your hair loss, speaking to a dermatologist or local GP is always the best place to start your hair loss journey.
What is the magic ingredient to the Hair Gummies?
One hair gummies brand we looked at promises to give consumers long, healthy and stronger locks simply by taking 2 tablets a day. It contains 15 ingredients, most of which are sugar and water. The active ingredient claiming to grow your hair are a list of vitamins, folic acids and 5000mcg biotin.
The ingredients in the gummies which help skin and hair is Biotin. The recommended amount for an adult is 30mcg which can achieved with your daily diet. The amount of Biotin in these hair gummies is 167 times the daily recommended amount for an adult.
What Do the Experts say?
The study contested by Labdoor in San Francisco found "the bears contain 70% more biotin than claimed on the label and about 75% the amount of vitamins B5 and B6. The gummies also contain about 26% less Vitamin E than what the company claims on the label."
Labdoor also commented that the excess of Vitamin B and Biotin doesn't make the hair gummies more effective. The body releases unnecessary amounts of Biotin provided in these vitamins.
FAQ
How will hair gummies they make my hair grow?
The website claims that customers found their nails and skin quality improved over time by taking the hair gummies. There have been no studies to prove that the formula in these hair vitamins will improve hair and nails.
Are they expensive?
A bottle of 60 hair gummies is $30USD ($42.05 AUD) plus shipping. The 30 day supply is roughly 50c per gummy. Other Biotin vitamins on the market are half the price compared these famous blue hair gummies. The small print does state that they recommend using the product for minimum 6 months to see real results!
What can I do about my hair loss?
We recommend chatting to a medical professional about your symptoms and what solutions are on the market. For instantly thicker hair, try Boost N Blend microfibre technology which conceals thinning hair. The Boost N Blend fibres are designed for female hair loss and hide a visible scalp in a few shakes! No more waiting around for six months for results that you likely won't see.
What foods contain Biotin?
Foods rich in biotin include eggs, nuts and seeds, dairy, salmon and sweet potato! Adding biotin to your diet will increase your Vitamin B levels.
Read more about rich biotin foods here
more reading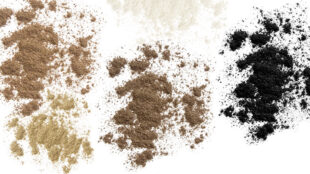 Female Hair Fibres Our quest is to find the best cotton hair fibres for women. We have reviewed 6 cotton hair
[...]