Female Hair Loss in Hollywood
Celebrities with Hair Loss
Studies show more than 40% of women lose their hair at some stage of their life. So it's little wonder there's female hair loss in Hollywood.
For so long it almost seemed like female hair loss was a taboo subject and there wasn't always a lot of information or help available. For men, there was a plethora of creams, tablets and quick fixes on the market but for women a lot of us were suffering in silence.
Today we are finally hearing more female celebrities opening up about their hair loss experience. It is refreshing to see the glamorous faces on glossy magazines are now advocates for female hair loss. These high profile celebrities are not shying away from discussing a common problem among women.
What The Stars Say – Jada Pinkett Smith Hair Loss
Recently Jada Pinkett Smith opened up on her Red Table Show about her battle with alopecia. The 47 year old actress said "I was in the shower one day and had just handfuls of hair in my hands and I was just like, 'Oh my god, am I going bald?" Pinkett Smith said doctors couldn't identify the cause of her hair loss but they believe it was stress related.
Body Confessions! Jada Tells All At The Table

At the Red Table this week, Jada Pinkett Smith, Willow Smith and Adrienne Banfield Norris get real about body insecurities and explain why every single body is beautiful in its own way.Be sure to follow Red Table Talk for more episodes!

Posted by Red Table Talk on Monday, May 21, 2018
Selma Blair started talking about her post partum hair loss after having her son in 2011. The actress told People magazine "This is so not glamorous, but it's true: I need to take longer showers so that I can collect the hair that falls out and throw it away so I don't clog the drain. Why do actresses never talk about that?"
What Do Celebrities do for hair loss?
Often we see male celebrities embracing a new shorter, shaved look at the first sign of hair loss, but for women it isn't that easy. In fact, as women first begin to wonder if they may be experiencing female hair loss, they are shocked and stunned, as they are usually not sure why it's happening nor how to fix the problem.
If this is happening to you, the fist thing to do is to consult a doctor and check your symptoms, as there are many reasons you may be losing hair.
Celebrities the world over are using hair fibres to thicken the appearance of their hair. Female hair fibres like Boost N Blend are a staple in every celebrity hair styling kit. Literally thousands of television personalities wouldn't appear on set without these babies in their hair. Movie sets and television studios are awash with luscious looking hair that wouldn't be possible without hair fibres. Female hair fibres like Boost N Blend are made from cotton and so are natural, vegan and cruelty free.
If you are lacking confidence and want to start feeling more feminine why not try female hair loss concealer fibres. Boost N Blend cotton hair fibres cling to the hair shaft, conceal thinning and sparse areas of hair in seconds. The Boost N Blend hair fibre concealer was made by women, for women and within seconds you will have instantly thicker looking hair again.
more reading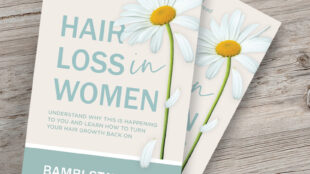 Female hair loss can be a complex issue and requires complex solutions. In my latest book, HAIR LOSS IN
[...]