Hair Topper or Wig – which one for me?
There is a big difference between a hair topper (less hair) and a wig (full head cover).
Women who struggle with hair loss are often looking for a solution to their visible scalp and thinning hair. If you're in between treatments or wanting to give yourself a hair transformation, you could try wearing a hair piece.
 The difference between hair toppers and wigs
Hair Toppers
Hair toppers, also known as a crown extension, is a hair piece which clips into existing hair. Hair Toppers can make otherwise thin hair look very thick and luscious. Thin hair can be evident at the scalp by exposing the crown or further forward, exposing the scalp at the top and front of scalp. Thin hair and hair loss can also manifest as long hair that looks thin and straggly. A topper is a perfect solution for both these types of thin hair/hair loss as it can be fixed onto the existing hair with built-in clips. Unlike wigs, hair toppers are designed to enhance and mimic natural hair. Toppers can create fuller looking hair and be straightened and curled like human hair.
Hair Toppers come in a huge range and variety of shapes, sizes and colours. Short toppers provide a great boost for women with short hair that breaks easily and is therefore difficult to grow. Longer toppers can be added to long hair styles and worn loose or used to boost pony tails. Toppers with a fringe (or bangs) are also great for women with thin hair at the front. Toppers are available in both human hair (often seen abbreviated as "hh") and synthetic hair. Because human hair is easily cut, styled and dyed, it is more versatile – and more expensive.
Wigs
Like toppers, wigs also come in both human and synthetic hair and in a huge variety of colours and styles. Wigs are a generally a full hair piece (human or synthetic hair) which covers the entire scalp and does not require clips. The natural hair sits under a wig cap and the wig is placed directly over the top. Once the natural hair is tucked away under a wig cap, the wig is easy to apply. Non slip headbands and wig caps are readily available to keep the wig in place. Wigs are generally more expensive than toppers and not very practical when swimming, exercising and at the beach.
What Will Best Suit Me?
There are many considerations when choosing which option is best for you. One of the most common objections to a full head wig is heat. Women who tend to "run hot" or who live in a hot and humid climate, tend to find wigs very uncomfortable. Another consideration for a wig and its comfort factor, is taking the wig off at home. Wig caps make the hair underneath flat and possibly oily thus hair may need to be washed after taking off the cap.
Most women choose their hair piece depending on the amount of hair they need to add. It is common for women with alopecia or following hair loss due to chemotherapy to choose a full wig. Whereas women with thinning natural hair or with telogen effluvium (diffuse all over thinning) to wear hair toppers to create fuller looking hair.
Both options are great for women wanting to enhance their hair and want more coverage.
How to choose the right colour wig or hair topper
If you are doing all your research online, and considering buying a wig from an online store, having not seen it in the flesh, then we suggest checking in with your hair dresser. She will be able to tell you what colour your hair colour is. If you are regularly having your hair dyed, then it will be relatively easy for your hair dresser to tell you exactly what colour your hair is being dyed to. If not, then it would be a good idea to forward a link to the product you are considering buying to your hair dresser, so she can confirm your colour choice. Or better still, while you are next at the hair salon, why not show her on your phone! Wigs and toppers are expensive, so getting the right colour is very important. Most wig vendors will allow a return and swap, but check with them first! Not all wig and topper vendors are ethical.
FAQ
1. What is the cost of hair toppers and wigs?
The cost of a hair topper varies depending on the quality of the hair, number of wefts, length and colour. Prices for a human hair topper can range from $200-$3000
The price of a wig varies depending on the type of hair (human or synthetic) number of wefts, style, colour and length. Synthetic wigs generally are cheaper due to the type of hair and can start from $40 up to $500. A wig made of real hair could cost between $800 and $5000, or more.
3. How long do they last?
Human hair toppers can last anywhere from 4 – 12 months with daily wear.
Human hair wigs depending on their maintenance can last up to 3 years and synthetic wigs lasting up to a year. The more you look after your wig, the longer it will last.
4. What are some alternatives to hair pieces to cover hair loss?
For thinning hair that is not at the hair topper or wig stage, but still needs help to produce a full coverage look, then female hair fibres are an easy option. Natural cotton hair fibres cover visible scalp and a wider part. These tiny volumising micro fibres blend in to not only soak up those pesky oils, but will give the appearance of thicker looking hair at the same time.
more reading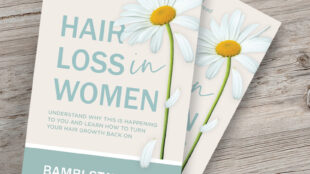 Female hair loss can be a complex issue and requires complex solutions. In my latest book, HAIR LOSS IN
[...]